Discover more from Zima Red - Metaverse, NFTs, Web3, AR, VR, AI
Zima Red explores how the metaverse is going to impact all of us
Over 7,000 subscribers
🖼❤️🌎Art & Altruism - Bringing In The Masses With Cryptograph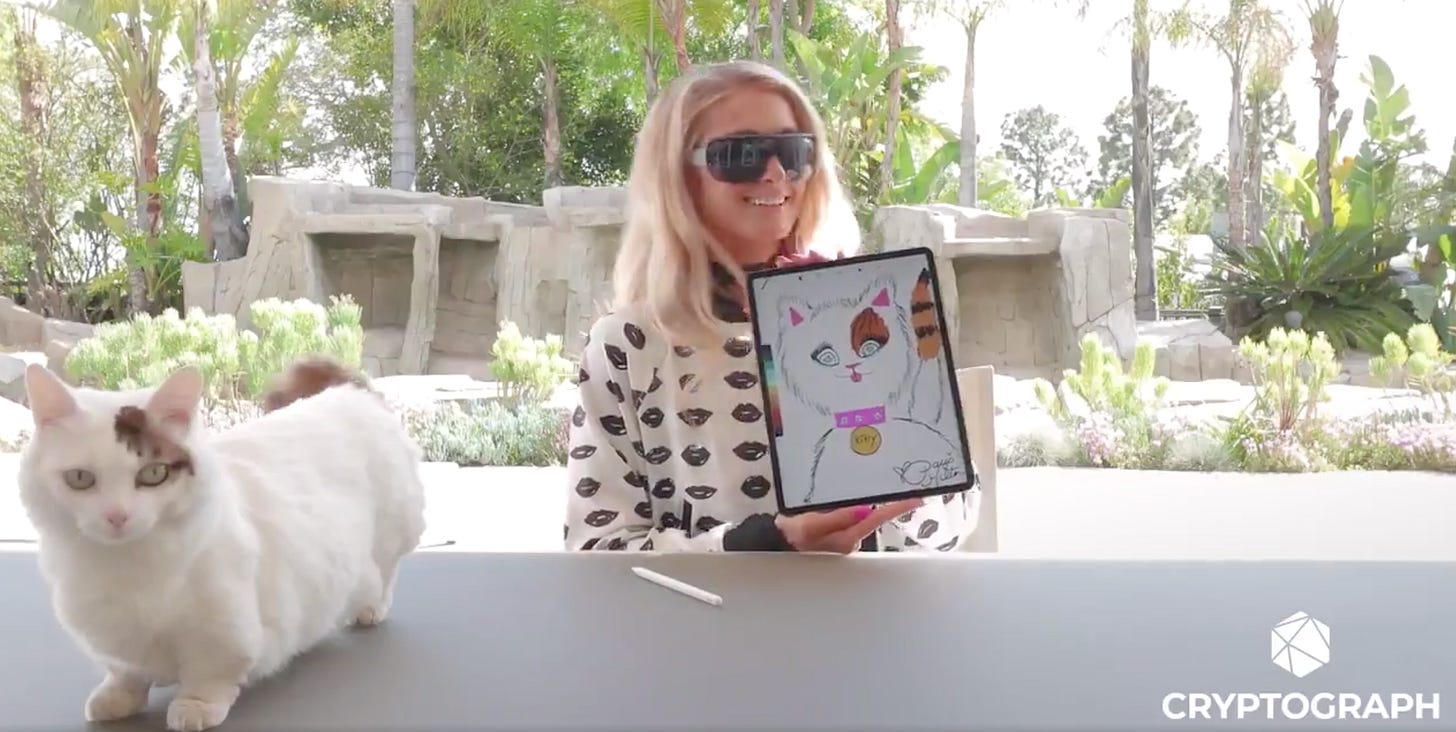 (Paris Hilton showing off her Cryptograph that she just created)
---
Before diving in, please 🔥 subscribe 🔥 to stay updated on all things happening in the world of NFTs.
---
I am always going on about how I think non-fungible tokens (NFTs) will introduce crypto to mainstream audiences (I wrote a blog about it here). The main reason being that NFTs are more approachable than crypto because they deal with art, games, virtual worlds, etc., while crypto deals with trading and money. I think NFTs are making great strides in attracting the mainstream, but one project that is already succeeding in doing so is Cryptograph. I mean, what other NFT project can attract a Paris Hilton collaboration?!
This is the type of exposure that gets me excited about NFTs. If a Paris Hilton fan can easily understand what is going on in our ecosystem, then that means we are on the right path.
So, what is a Cryptograph? That is a great question, and I asked Luke from the NonFunGerbils podcast to explain it to me.
"A Cryptograph is a digital legacy, a creation made by an artist or icon that will generate revenue for its cause perpetually. Each one is initially auctioned off using their unique GBM auction system that rewards bidders for their role in taking part in the price discovery, i.e. if you get outbid you make a financial return. Furthermore each time a Cryptograph is transacted on the secondary market, a fee is always taken and distributed to its creator and its charity(s) thanks to their ERC2665 extension to the ERC721 standard.
A Cryptograph is an NFT with a purpose, it is designed to exist forever and perpetually  generate revenue for its creator and charitable cause(s).."
So, not only is it a type of NFT art/collectible, but it also has the amazing ability to direct revenue, in perpetuity, towards a charity of the creator's choice. Cryptograph hit two birds with one stone: they created an asset for the greater good and introduced NFTs to the mainstream populace via celebrity-created Cryptographs. 
Even the actor Ashton Kutcher shared a short video showing himself creating a Cryptograph. 
The story was picked up by the massive media outlet TMZ. According to Similarweb.com, TMZ is the 988th most visited website on Earth, with an average of 58 million visits per month. By sharing their own simple pieces of art, these celebrities are introducing and exposing millions of people to the concept of digital art on the blockchain.
Cryptograph is not stopping its marketing efforts at partnering with some of the biggest celebrities in the world. They are also making concentrated efforts to bring mainstream artists into the NFT ecosystem. But, in order to reinforce and promote the idea of crypto, Cryptograph is launching a series of works by both successful mainstream artists and successful crypto artists. This is ingenious marketing because it uses the massive reach and prestige of the mainstream art world while showcasing artists that are "native" to the crypto art paradigm.
Cryptograph was kind enough to let me announce which artists are coming on their platform for their upcoming launch!
Note: The art pieces shown below are samples of the artists' work, and not the exact pieces to be launched on Cryptograph.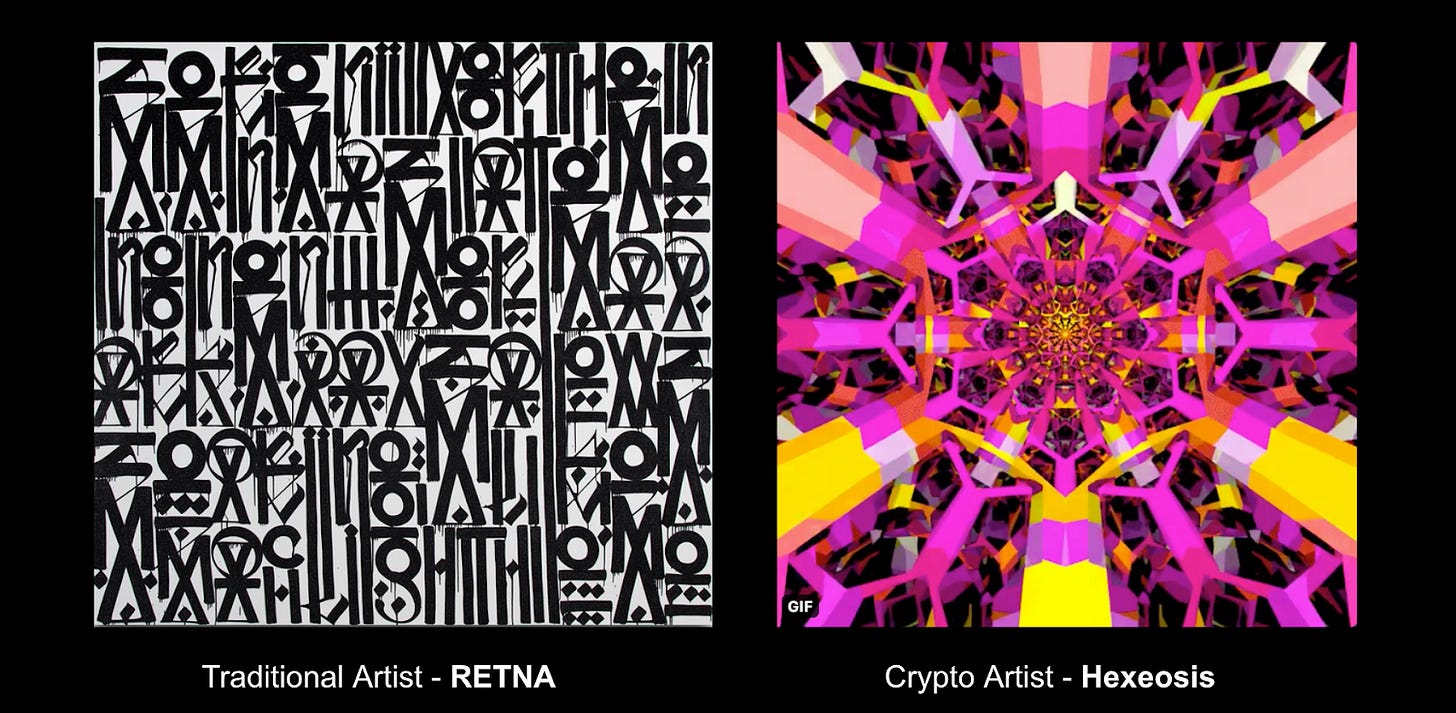 RETNA is a contemporary artist, primarily recognized for graffiti art. He has worked on advertising for brands such as VistaJet, Louis Vuitton, and Nike. His artwork also adorns the cover of Justin Bieber's album Purpose. He has 182k followers on Instagram and his artwork on Artsy.com is listed between $40,000 - $100,000.
Hexeosis is a digital artist that works primarily in the animated GIF format, with worldwide followers on several social media platforms. Hexeosis has +6k followers on Twitter and his artwork is for sale on SuperRare for around 4 ETH.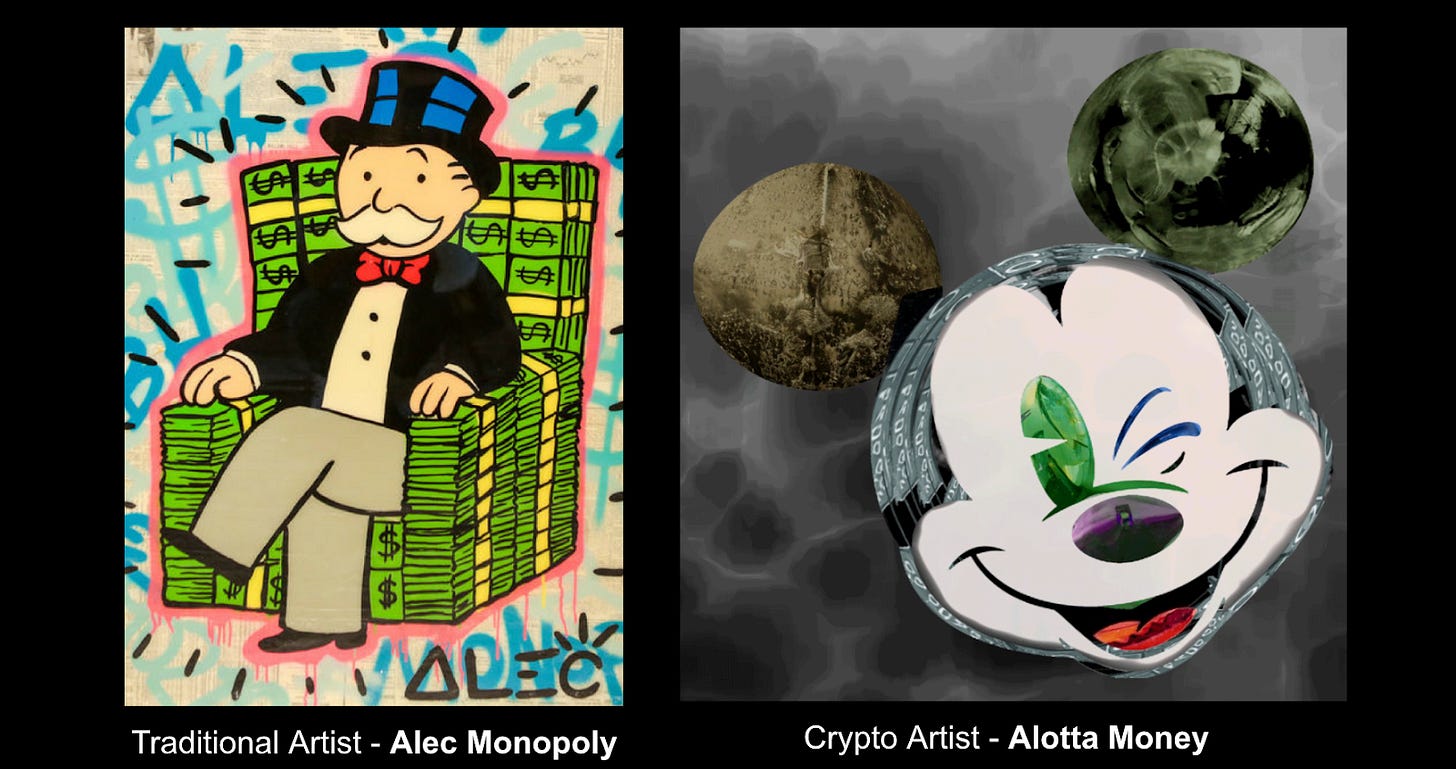 "Alec Monopoly" is the alias of an unidentified graffiti artist, originally from New York City. Alec and his works have been covered by The Wall Street Journal, London Times, New York Post, Rolling Stone, Playboy Magazine, Billboard Magazine, Vibe, The Huffington Post, Complex Magazine, Juxtapoz, and The Dirt Floor, in addition to a myriad of art and lifestyle blogs. He has 1.2m followers on Instagram and his artwork on Artsy.com is priced between $28,000 - $100,000. 
Alotta Money is a multifaceted artist that is a "Crypto Artist, Voxels architect, Photoshop Priest, VR&AR Maximalist, NFT Machine & Most Humble Visual Orgasm Provider in the Space." He has +8k followers on Twitter and his artwork for sale on SuperRare ranges between $1,500 - $100,000+.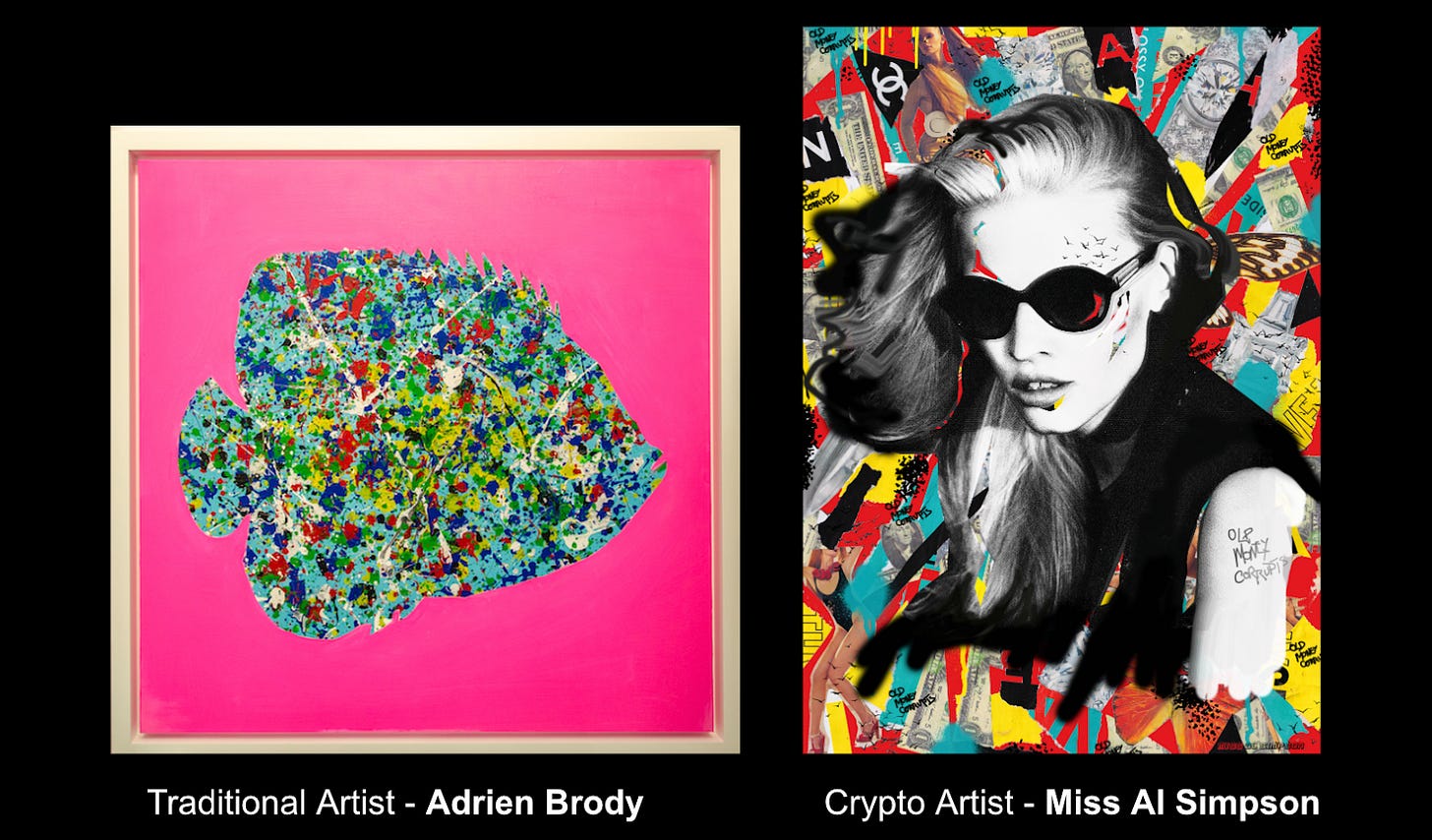 Adrien Brody is an American actor and producer. He received widespread recognition and acclaim after starring in Roman Polanski's The Pianist, for which he won the Academy Award for Best Actor at age twenty-nine, making him the youngest actor to win in that category. He has 488k followers on Instagram. I could not find the exact pricing of his artwork, but one of his pieces (link) sold for $22,000. 
Miss Al Simpson (aka Anna Louise Simpson) is a digital artist with a love of black ink and collage. Anna Louise grew up watching vintage movies and getting inspired by fashion magazines and books. Exploring the rips of popular culture and society's vulnerability, Anna Louise produces images of dystopic fragility...'a keeper of fragile things'. She has +2,500 followers on Twitter and her artwork on SuperRare ranges in price between $1,000 - $9,500.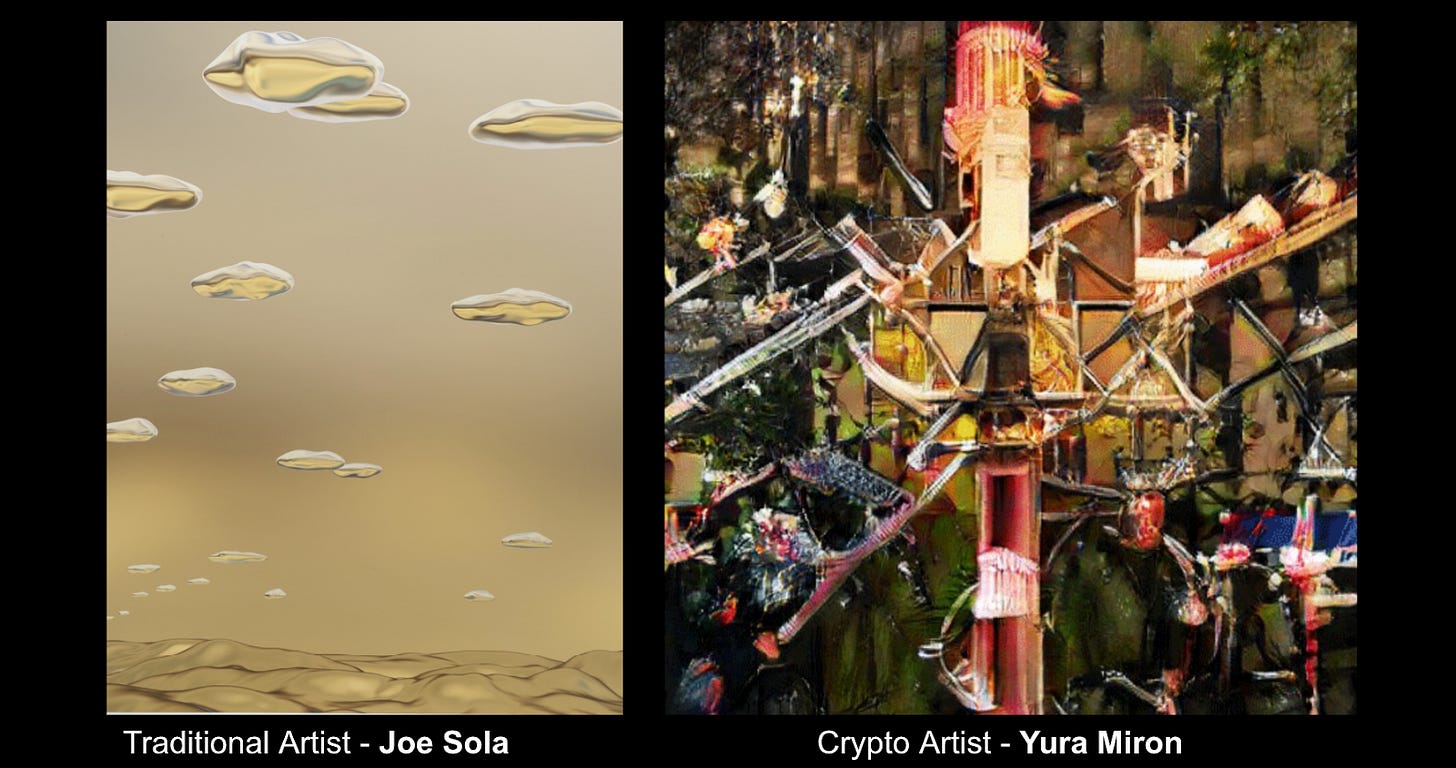 Joe Sola is a contemporary artist who lives and works in Los Angeles, California. He is known for his satirical video works, most notably Studio Visit and Saint Henry Composition, unique exhibition installations such as A Painted Horse by Joe Sola, and Portraits: an exhibition in Tif Sigfrids' ear, as well as his collaborative performances with composer Michael Webster. He has ~1,000 Instagram followers and multiple works for sale on Artsy.com.
Yura Miron is "A Visionary Artist, Musician, Psychonaut Exploring The Inner And Outer Universes Using The New Media Art Technologies, Such As: Cryptoart, Virtual And Augmented Reality, Generative Adversarial Networks And Audio/Visual Synthesis." Yura has +1,500 followers on Twitter and his artwork on SuperRare ranges between $1,000 - $15,000.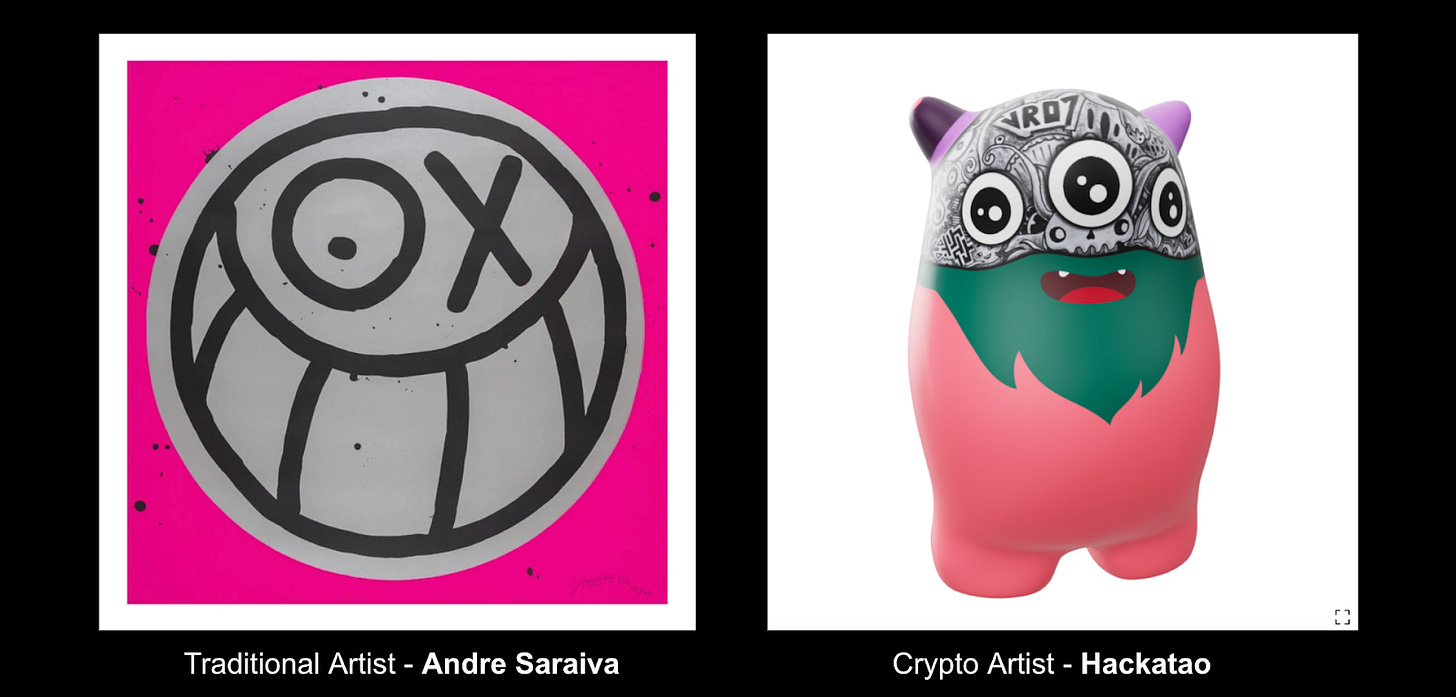 Andre Saraiva (aka Monsieur André and Monsieur A) He is a Swedish-French artist known mononymously as André, and is best known for his work in graffiti. Amongst his creations is Mr. A, which he has painted across all six inhabited continents. His work has been featured in museums such as the MoCA and in feature films such as Exit Through the Gift Shop. He has 147k followers on Instagram and his work on Artsy.com is listed for around $1,000 - $4,000. 
Hackatao, "The artistic diptych... is formed by Sergio Scalet and Nadia Squarci. The duo was formed in Milan in 2007 working together with the creation of the Podmork, sculptures with soft and totemic forms, which are at the center of their imaginative research. Hackatao is present with his digital works on the major Cryptoart galleries (SuperRare and Known Origin) since their birth. Hackatao actively participates in the Cryptoart movement." - Copied from cadaf.com. Hackatao has +4k followers on Twitter and their art ranges from $10,000 - $50,000 on SuperRare.
The brilliant marketing from Cryptograph shows how we can push the entire ecosystem forward by leaps and bounds. Reaching out to celebrities and traditional artists and combining their creations with our own crypto-native talent will allow people to discover and dive into the crypto art ecosystem. I am really excited about this upcoming art launch, and I want us all to be inspired and learn from Cryptograph's innovative NFT project and go-to-market strategy.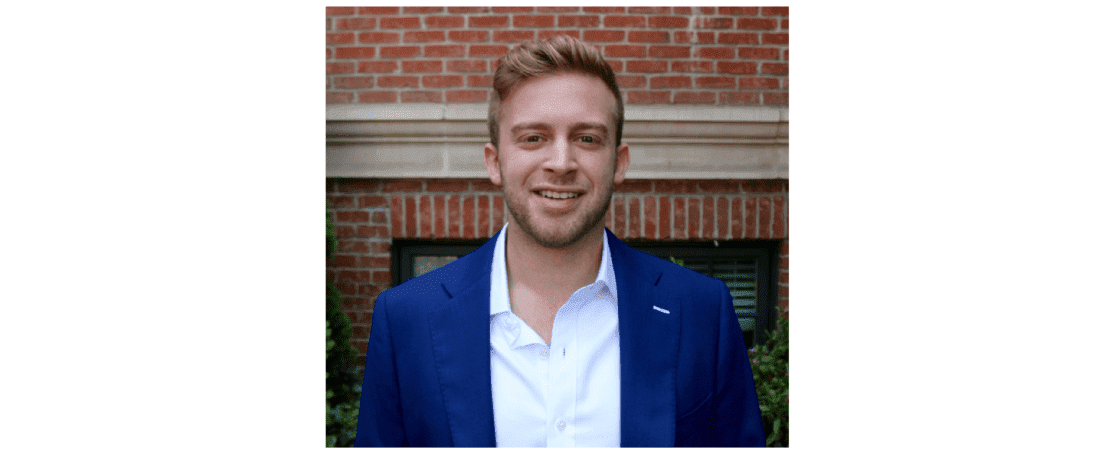 If you liked this content please subscribe to my newsletter, Zima Red, and give me a follow on Twitter. Stay tuned for more articles on unique digital assets and all things virtual. 😎