Discover more from Zima Red - Metaverse, NFTs, Web3, AR, VR, AI
Zima Red explores how the metaverse is going to impact all of us
Over 7,000 subscribers
NFT Proof-of-Work Art Edition - April 2020

This newsletter is all about NFT art. We look at recent notable NFT art sales and include a mini Q&A with a featured artist.
Market Activity
Note - Many of these pieces are animated so if a particular piece tickles your fancy, I highly suggest you click on the direct link for the best viewing experience. 
---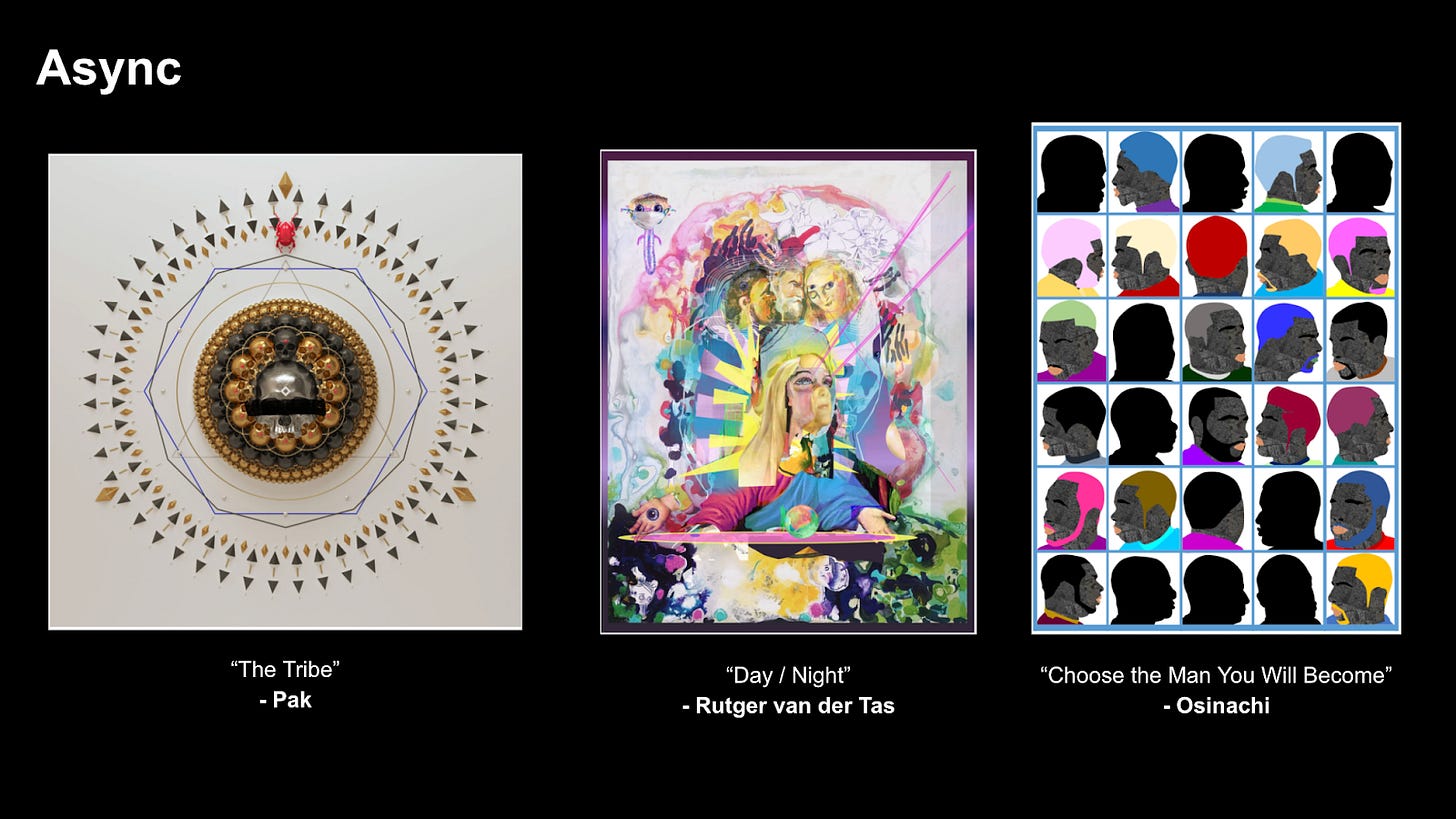 🖼Piece - The Tribe || 🎨Artist - by Pak || 💸Sale Price - 17.5 ETH (~$3,226)
🖼Piece - Day / Night || 🎨Artist - Rutger van der Tas || 💸Sale Price - 15 ETH (~$2,764)
🖼Piece - Choose the Man You Will Become || 🎨Artist - Osinachi || 💸Sale Price - 10 ETH (~$1,842)
---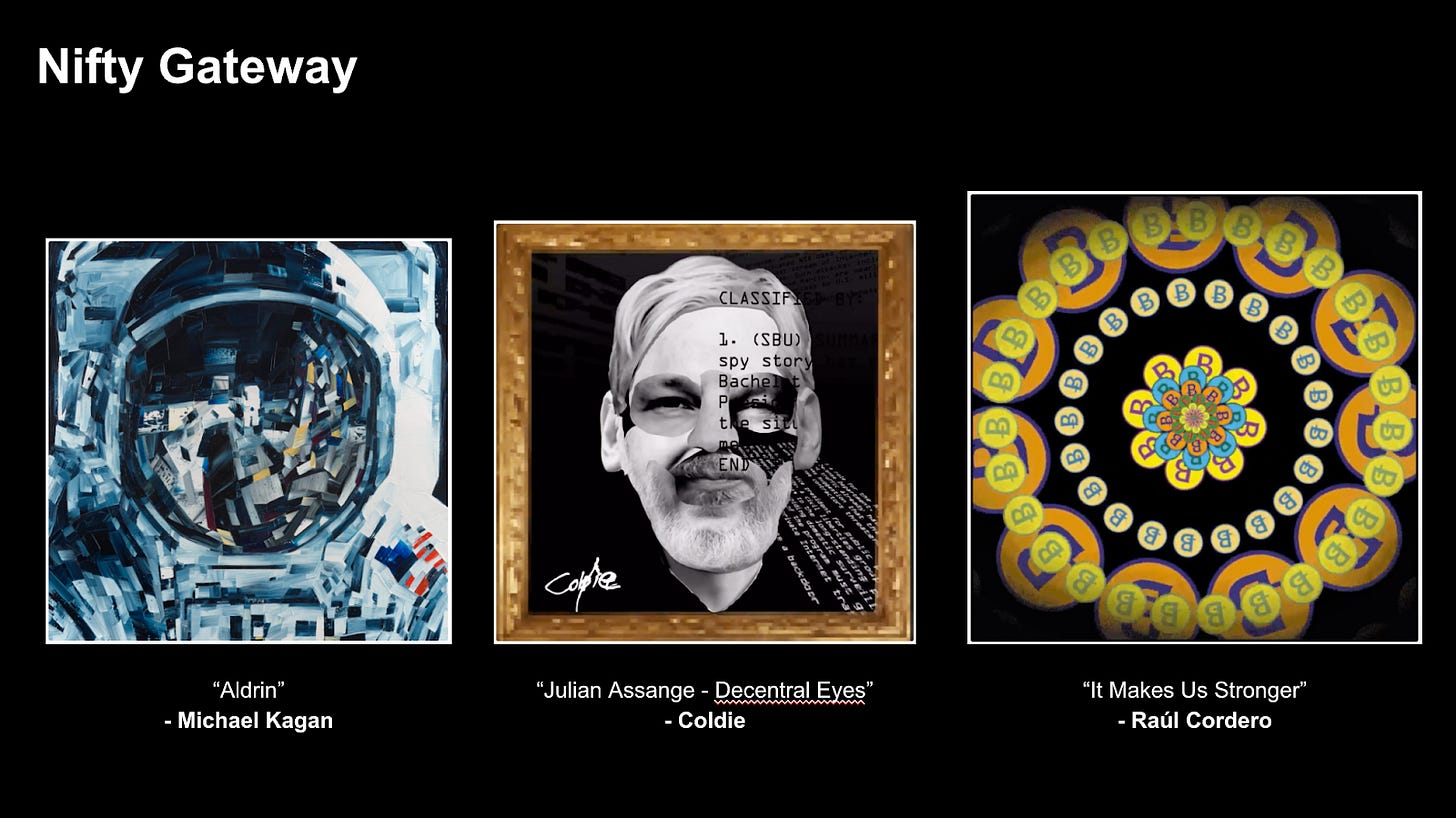 🖼Piece - Aldrin || 🎨Artist - by Michael Kagan || 💸Sale Price - $5,000
🖼Piece - Julian Assange - Decentral Eyes || 🎨Artist - by Coldie || 💸Sale Price - $4,100
🖼Piece - It Makes Us Stronger || 🎨Artist - by Raúl Cordero || 💸Sale Price - $3,010
---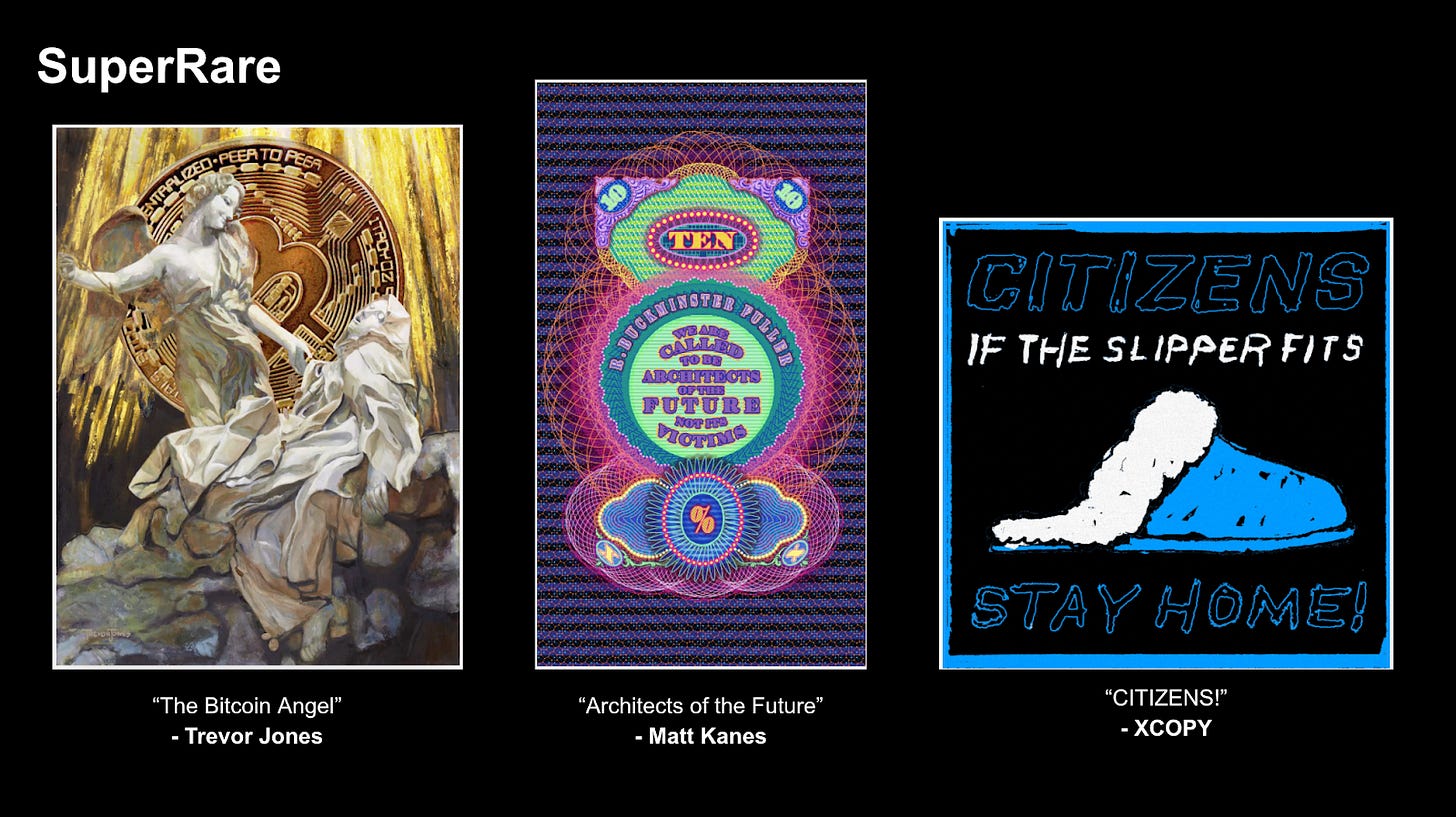 🖼Piece - The Bitcoin Angel || 🎨Artist - Trevor Jones || 💸Sale Price - 25 ETH (~$3,300)
🖼Piece - Architects of the Future || 🎨Artist - Matt Kane || 💸Sale Price - 13 ETH (~$2,248)
🖼Piece - CITIZENS! || 🎨Artist - XCOPY || 💸Sale Price - 10 ETH (~$1,767)
---
🖼Piece - Crypto Toy Coin || 🎨Artist - Javier Arrés || 💸Sale Price - 13.2 ETH (~$2,045)
🖼Piece - EthKitty || 🎨Artist - Katy Arrington || 💸Sale Price - 5 ETH (~$868)
🖼Piece - TARFA TRANSCENDING  || 🎨Artist - Osinachi || 💸Sale Price - 3.1 ETH (~$475)
---
Featured Artist Q&A - Lucho Poletti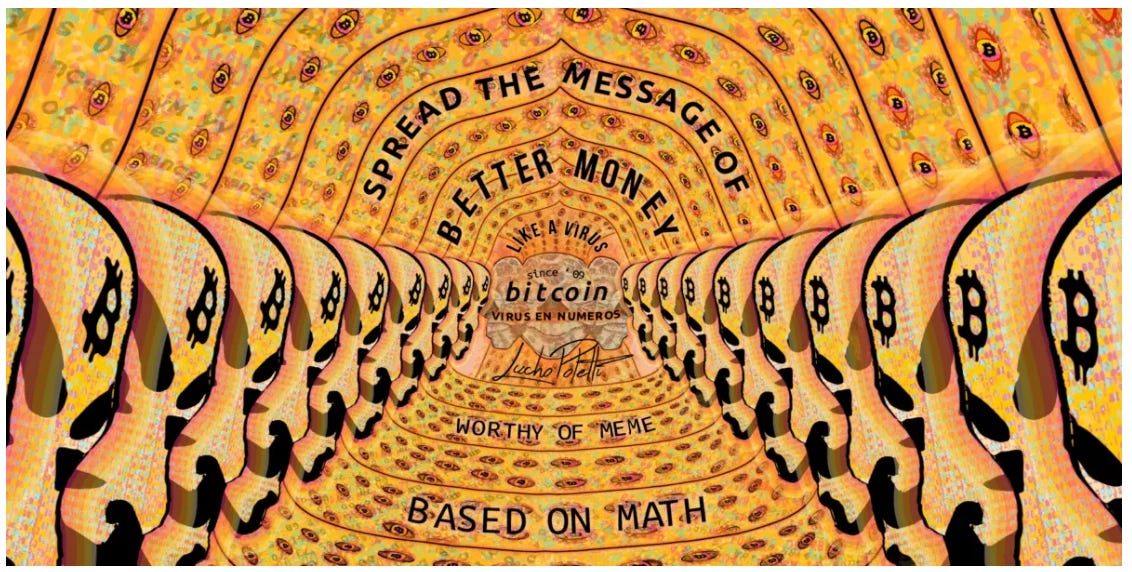 🖼Virus en Numeros ⬆️
What is your background?
Acrylic and oil painting & sketching from childhood, M.S. in Finance, early career in Business Intelligence, marketing, and consumer insights, self-taught graphic designer & illustrator
What inspires your artwork?
My desire to communicate important truths I see in our world, pushing others to think and live more freely. I decided in recent years to focus my efforts on bitcoin art as a way to concentrate my forces in what I believe to be the noblest cause for me to fight for - changing the money system.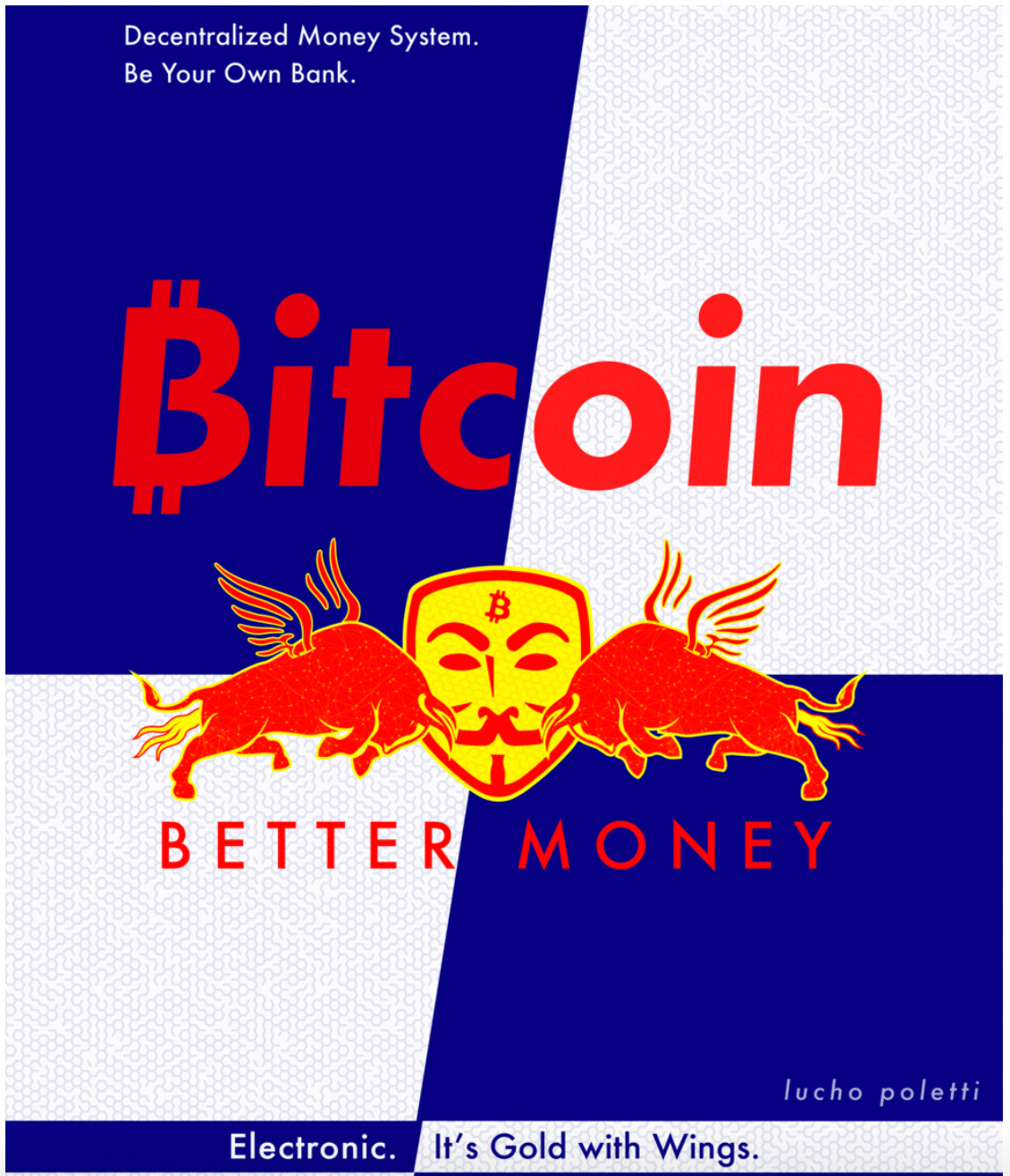 How did you discover NFT art?
Shortly after the crypto kitties craze in Dec 2017/Jan 2018, the first few works tokenized via fanbits/rarebits early 2018.
Why did you start to create NFT art?
Because most of my art is digital in nature, and selling the digital originals to collectors in a way that is verifiably scarce is a great addition to my product offerings on luchopoletti.com
What "tools" do you use to create your art?
I use mostly Adobe illustrator and am in the process of learning blender.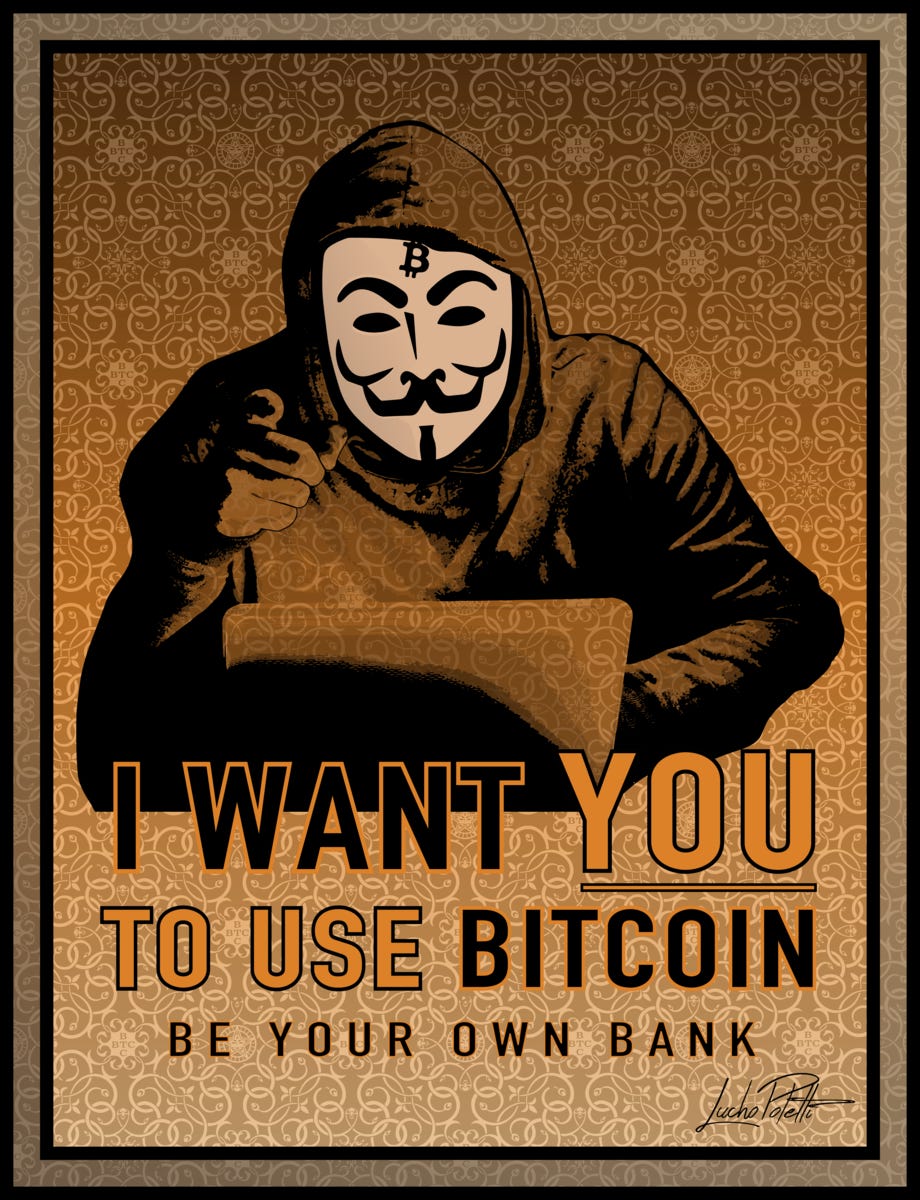 What do you think is the future of NFT art?
 NFT´s will play an important role in the evolution of art and art ownership. Artworks that are only practically possible to make digitally i.e. animations, 3D art, AI art, etc. are particularly interesting in my opinion for collectors. Art tokens that are impactful, iconic, and created authentically by the artists should be valued highly over time.
As for me, I continue to focus a large portion of my efforts on my physical art business and physical sales. I got into this to spread the message of better money, and I can tell you that my art in physical form as prints, stickers, t-shirts, and other merchandise is physically in the hands of more than the total number of users who frequent today's popular NFT platforms.

Most of my collectors either don't see the value in NFT's or are waiting until the case for investing in NFT's becomes more obvious. I think most likely what will happen is that an increase in sales - especially in the secondary market will show physical art collectors that NFT's are worth investing in. As they begin collecting NFT's, they will also probably realize many of the benefits that brought them to use bitcoin and ethereum in the first place.
---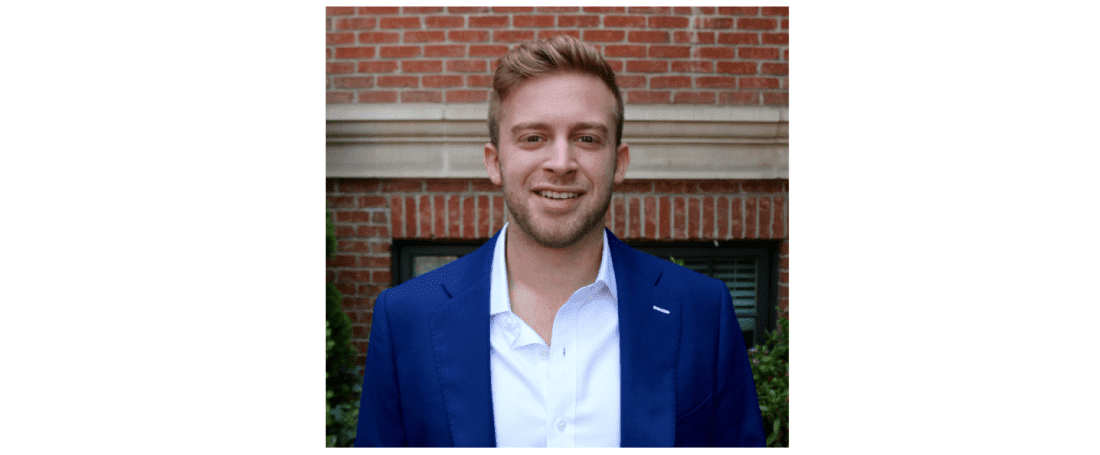 I hope you enjoyed this month's NFT Proof-of-Work Art Edition. Stay tuned for next month's edition and subscribe to Zima Red for more info on all things NFTs.